More world records in 3-cushion were set or broken on Gabriels tables than on any other brand.
The list is long, even if we only mention records from the past ten years.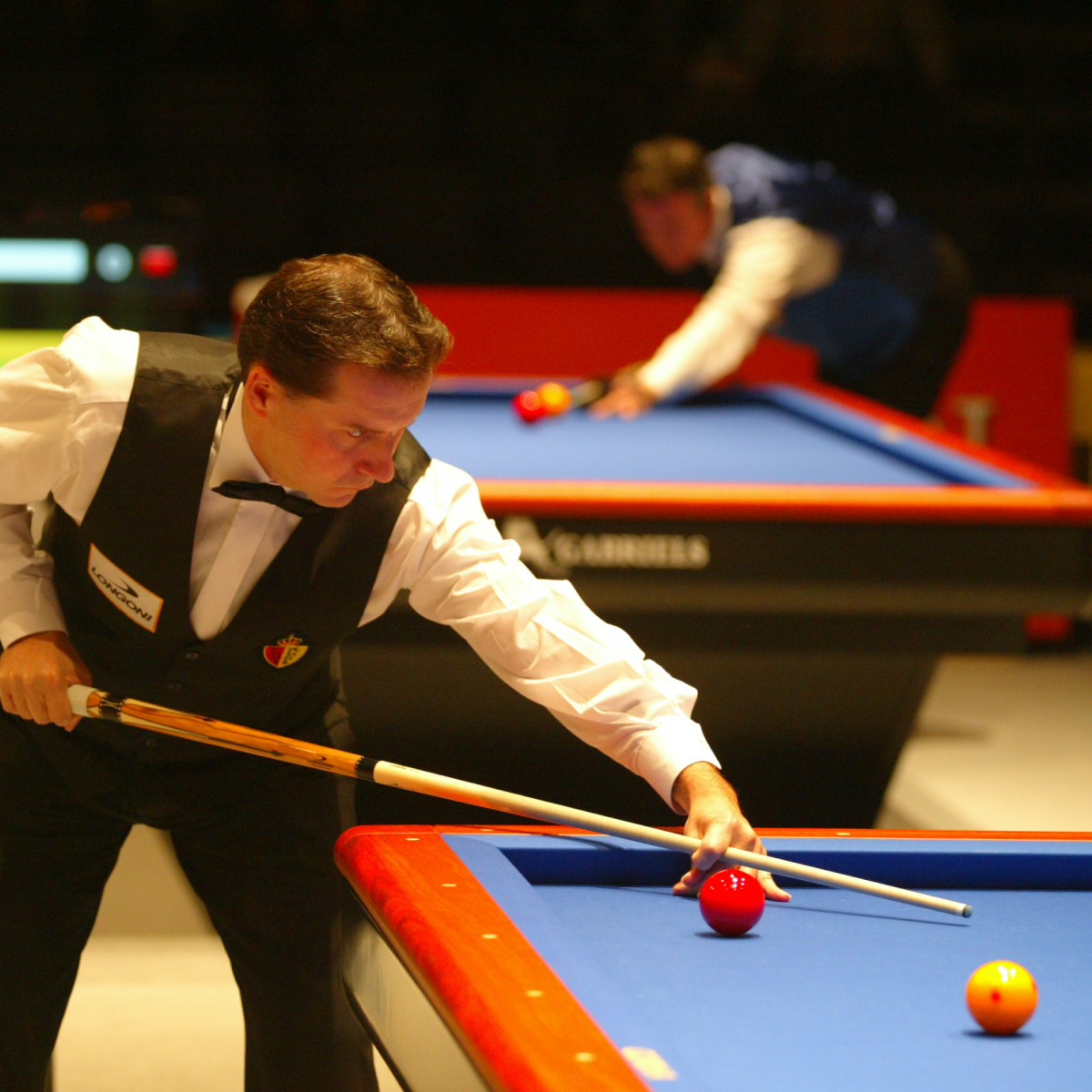 2011
Fehrbach, Germany
In a match against In-Won Kang in the German Bundesliga, Eddy Merckx (Belgium) moved the bar so high, we are wondering if anybody will ever jump over it again. He made 50 points in six innings: 4-9-26-7-0-4, for an average of 8.333. The previous record was 50 in 9! Merckx's unique achievement can be compared to Bob Beamon's long jump in 1968, when he jumped 8.90. That record would hold for 23 years. How long will Merckx's stand?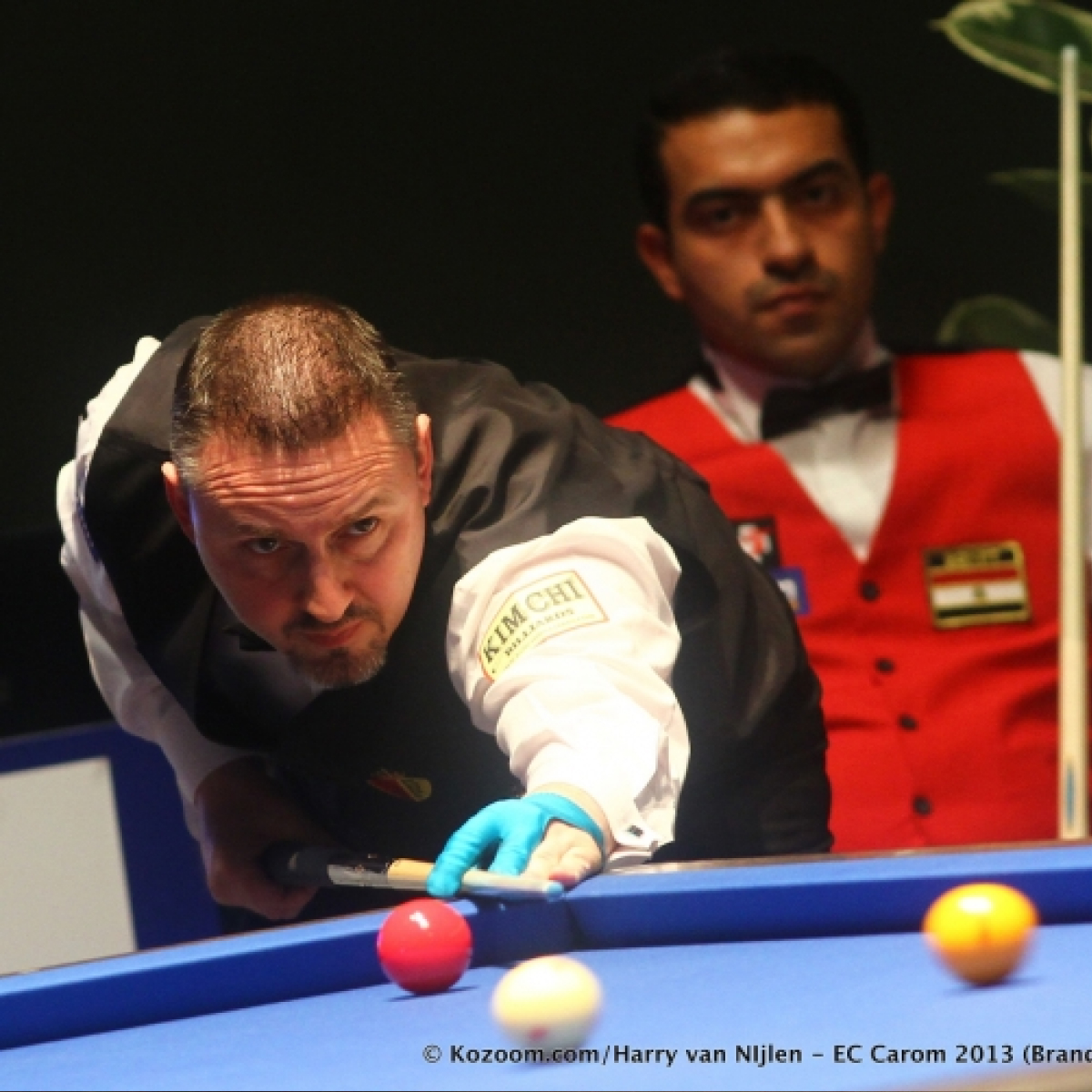 2013
Brandenburg, Germany
In the semifinal of the European Championship, Frédéric Caudron (Belgium) became the fourth player in history to run 28. Junichi Komori (from Japan, 1993), Raymond Ceulemans (Belgium, 1998) and Roland Forthomme (Belgium, 2012) are the other holders of that famous record. Caudron's thrilling match against Marco Zanetti is now the most-watched video in 3-cushion history.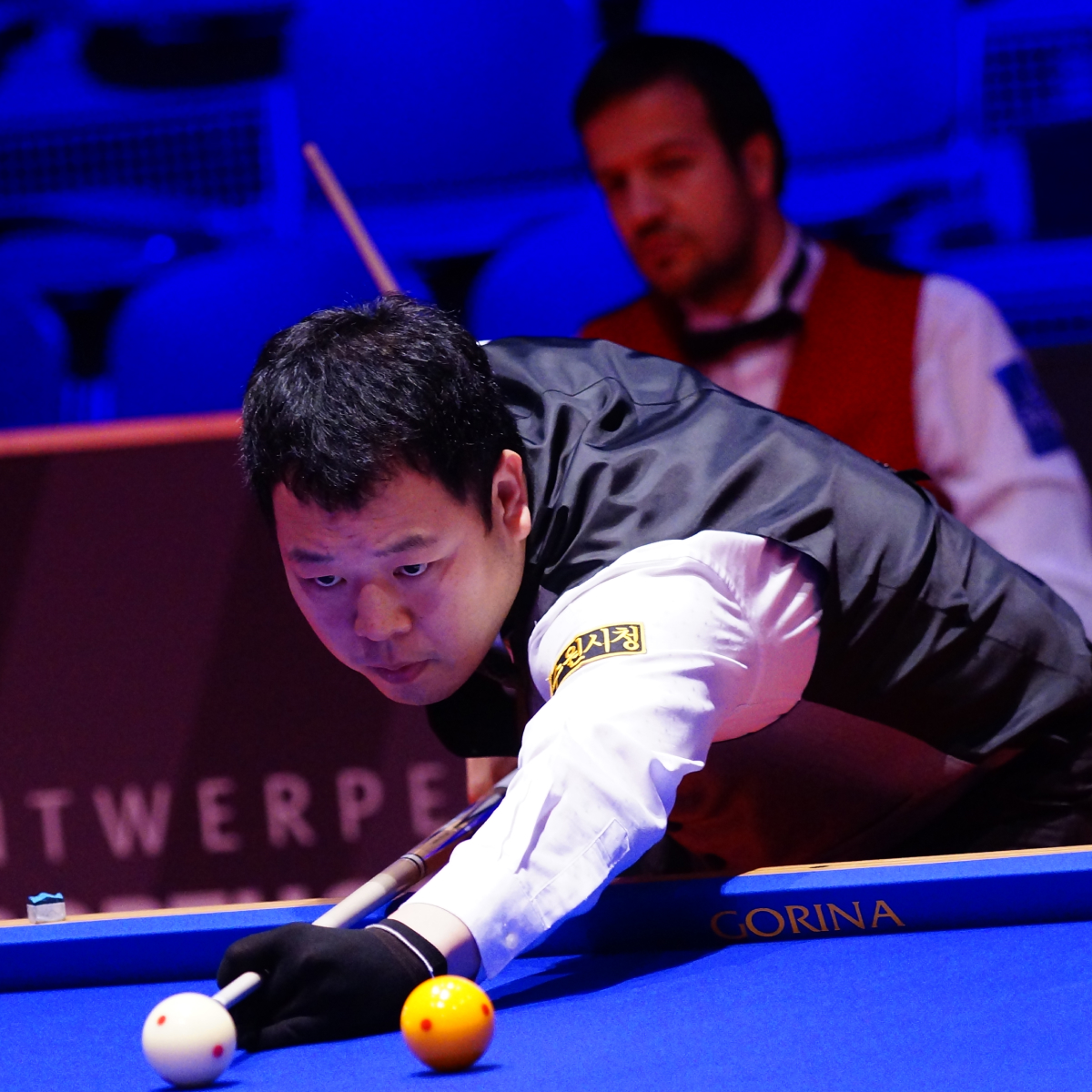 2013
Antwerp, Belgium
Dong Koong Kang from South Korea defeated Lütfi Cenet (Turkey) in a match to 40 points during the World Championship. He used only seven innings and averaged 5.714, a new world record for match average in a World Championship.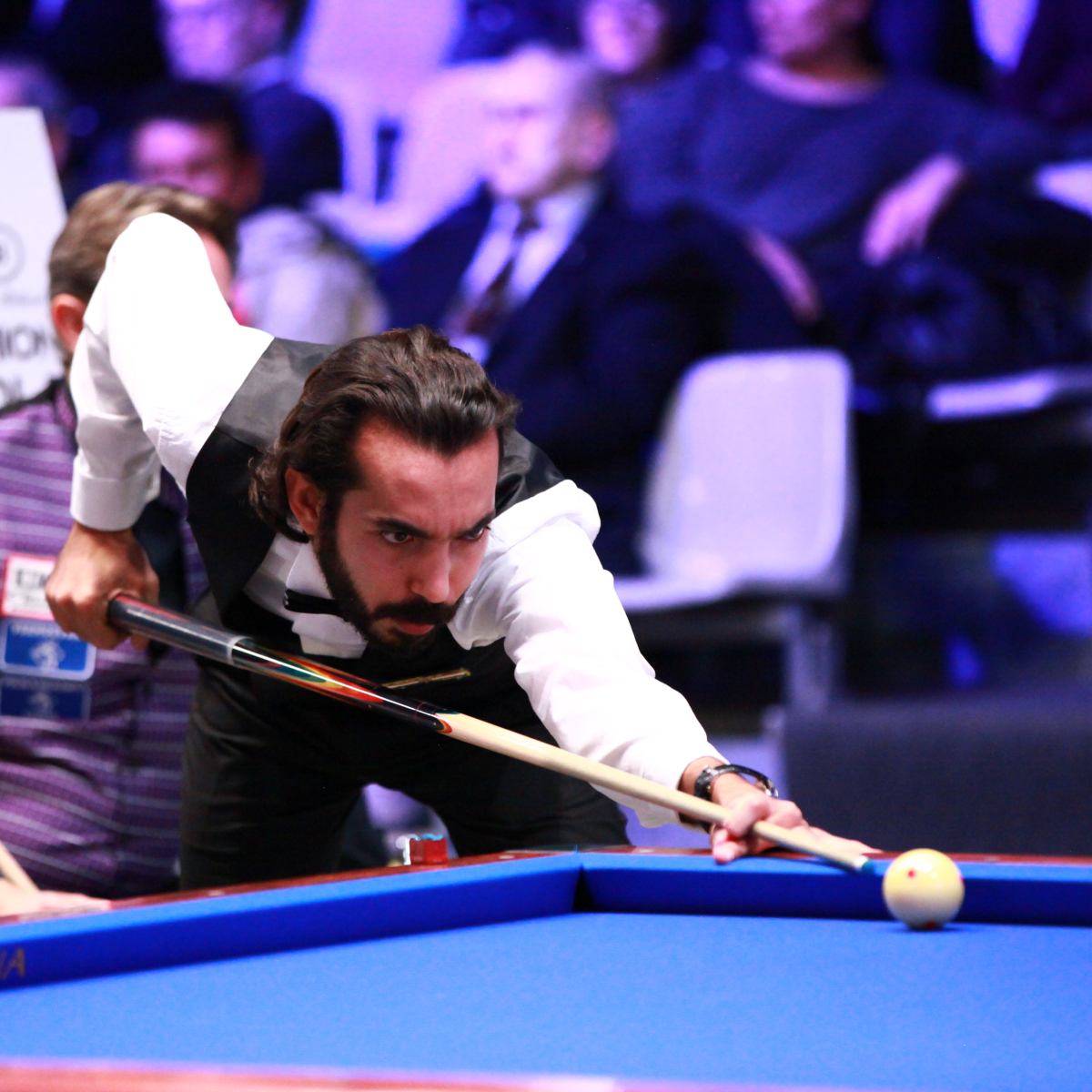 2015
Bordeaux, France
The UMB recognizes separate records for high run: a general category, a World Cup record and a World Championship record. That last one was captured by Sameh Sidhom (Egypt), when he ran 19. His run of 19 was later equaled by Denmark's Tonny Carlsen.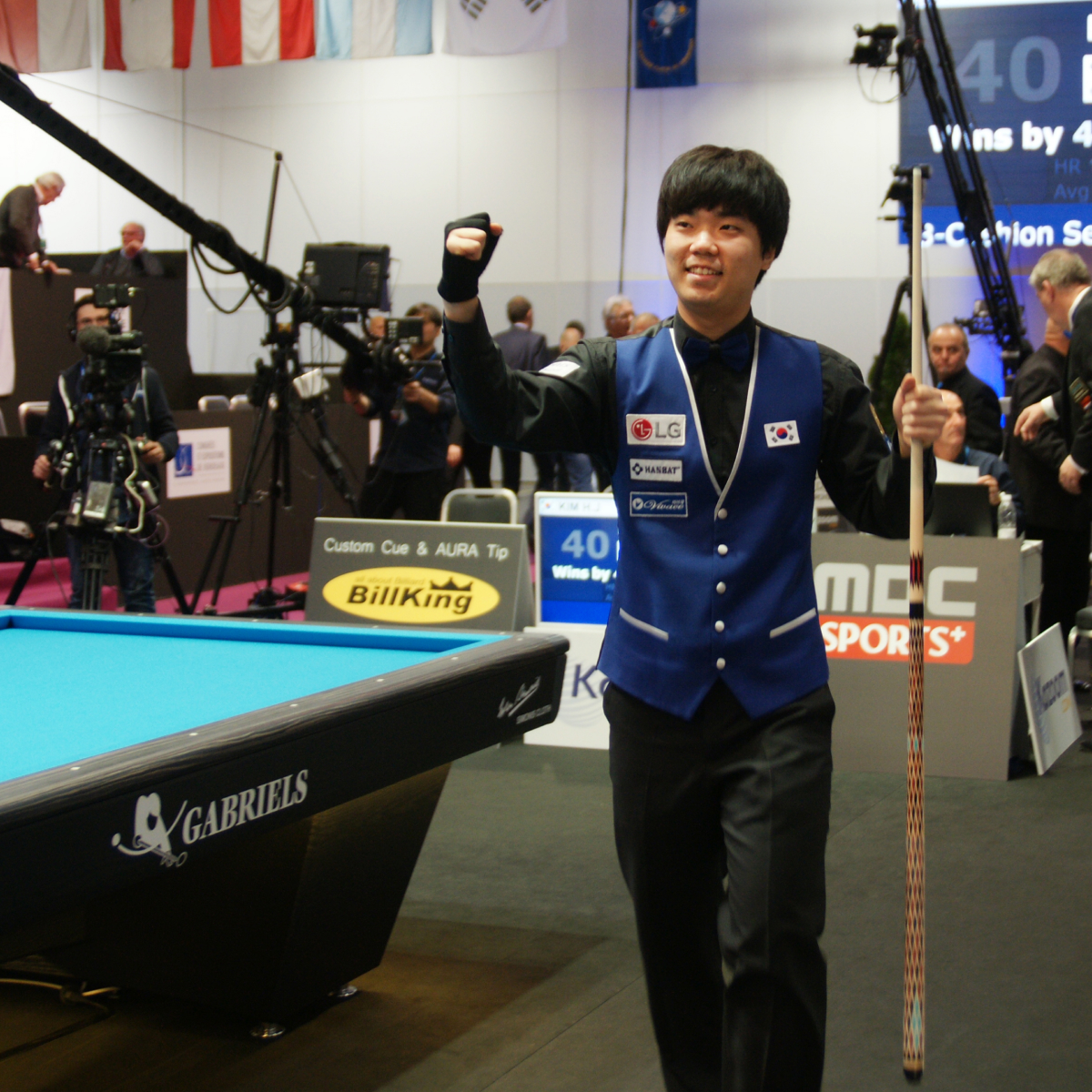 2016
Bordeaux, France
Spain's Dani Sánchez won the world title, but it was his opponent Haeng Jik Kim from South Korea who set a new world record. With 237 points in 116 innings (2.043) he had the highest general average in a World Championship. His record was later broken by Dick Jaspers (Netherlands). See below.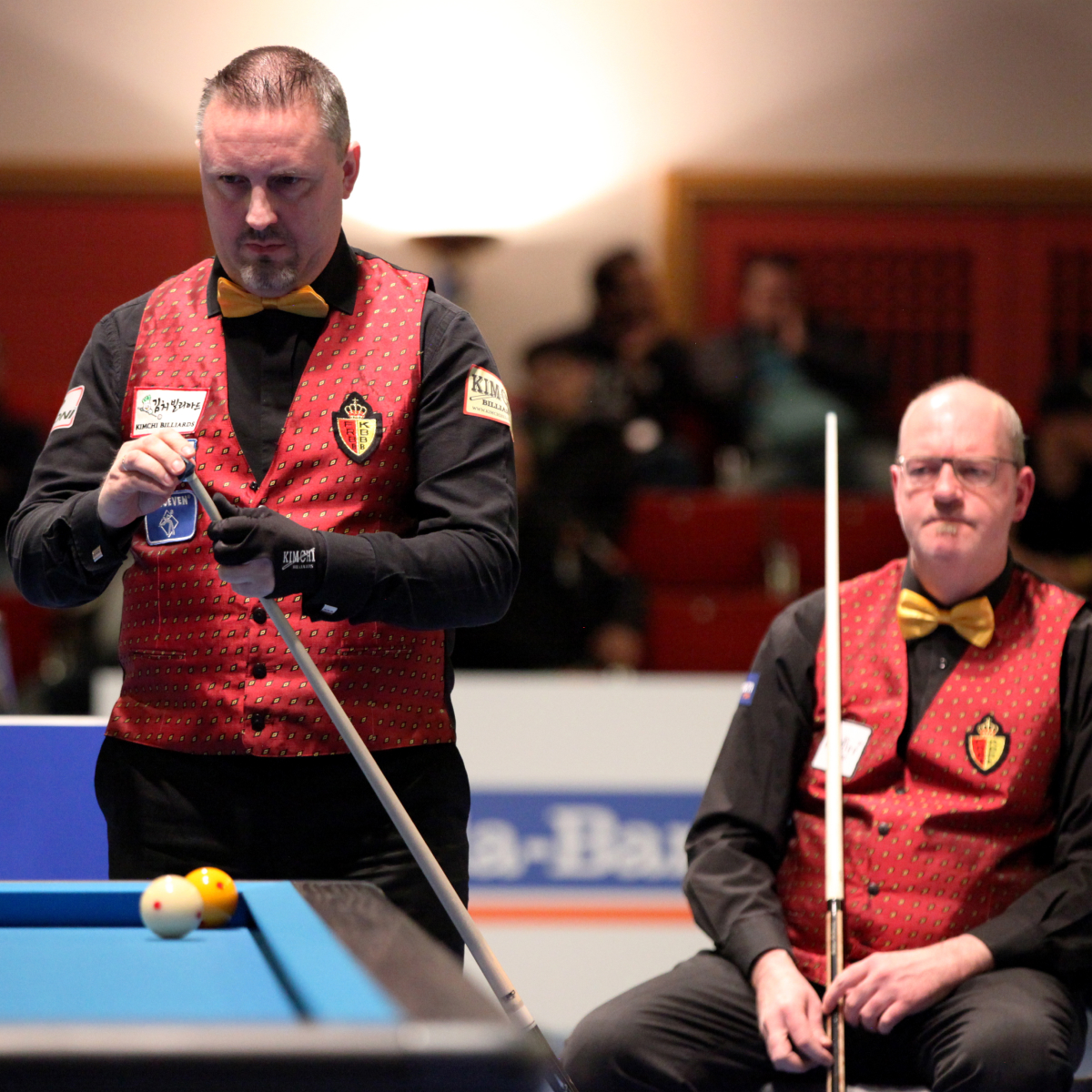 2017
Viersen, Germany
The World Championship for National Teams was played in the Scotch Double format for several years, and that created three new world records: high run, best match and team tournament average. The high run (20) made in 2017 by Forthomme and Caudron of Belgium still stands as the world record in Scotch Double. Jaspers and de Bruijn (Netherlands) made 40 in 11 (3.636) in the following year, also a world record. It was equaled by Sánchez and Legazpi of Spain in 2019. The world record team average is held by Sung Won Choi and Dong Koong Kang (South Korea), with 240 points in 125 innings (1.920).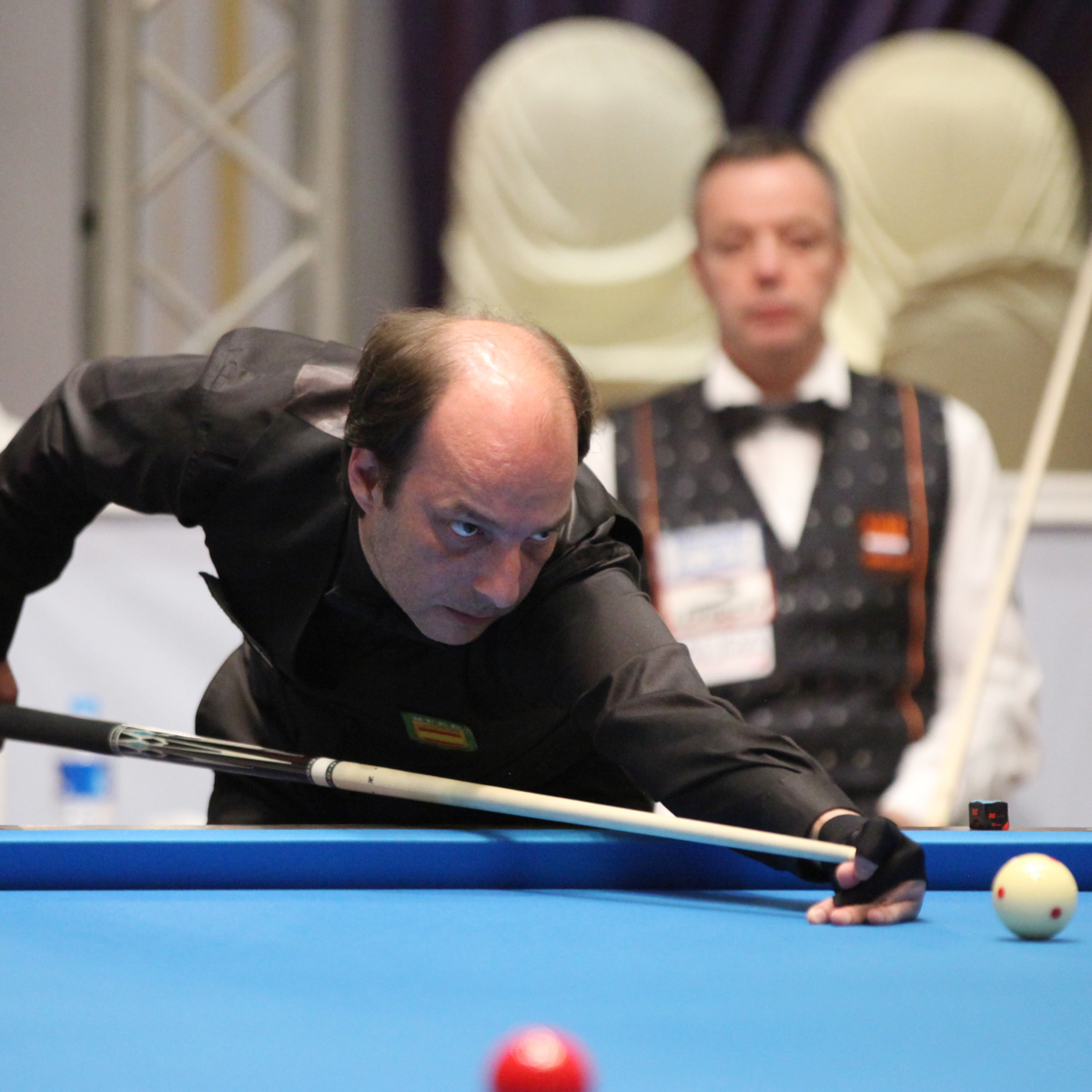 2017
Luxor, Egypt
The history of the best tournament average in a World Cup is a very interesting one. Torbjörn Blomdahl averaged 2.739 in Peloponnese, Greece in 2013, making 200 in 73. Dani Sánchez then equaled that record in Guri, South Korea in 2015. Frédéric Caudron would join them at 200 in 73 in Antalya in 2018. But at that time, it was no longer the world record! Dani Sánchez had improved to 200 in 72 (2.777) when he won in Luxor in 2017. His 2.777 is still the world record for best tournament average in a World Cup.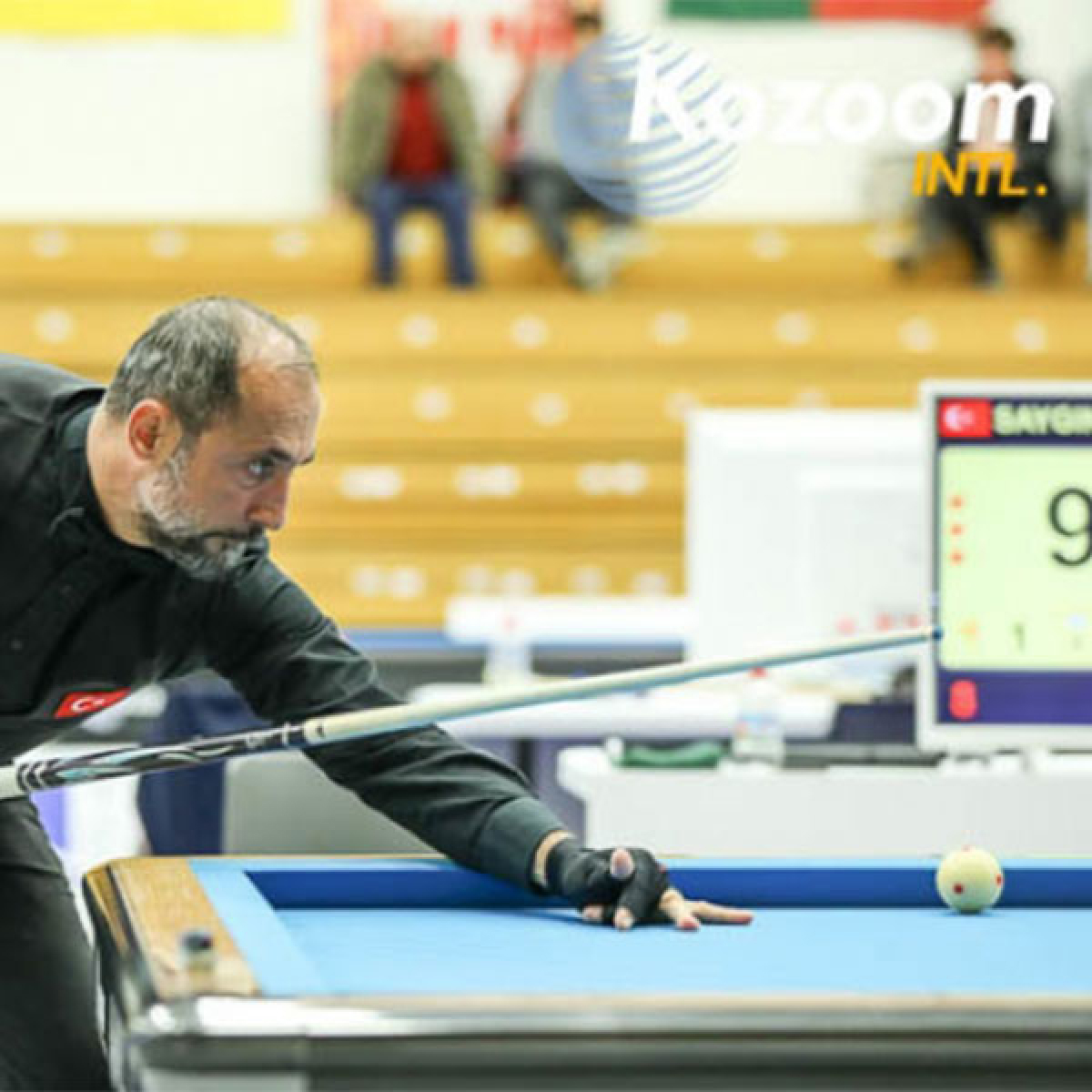 2018
La Baule, France
Can you break two world records in one match? Yes, you can. In the quarterfinal of the La Baule World Cup, Semih Sayginer (Turkey) defeated Dick Jaspers (Netherlands) in a historic encounter. Final score: 40 – 25 in 6 innings. The winner averaged 6.666, the loser 4.166. Sayginer's average is the world record for best match in a World Cup, and Jaspers became the first ever player to lose a World Cup match averaging over 4.000. The two players had a combined average of 5.416, an unofficial world record as well.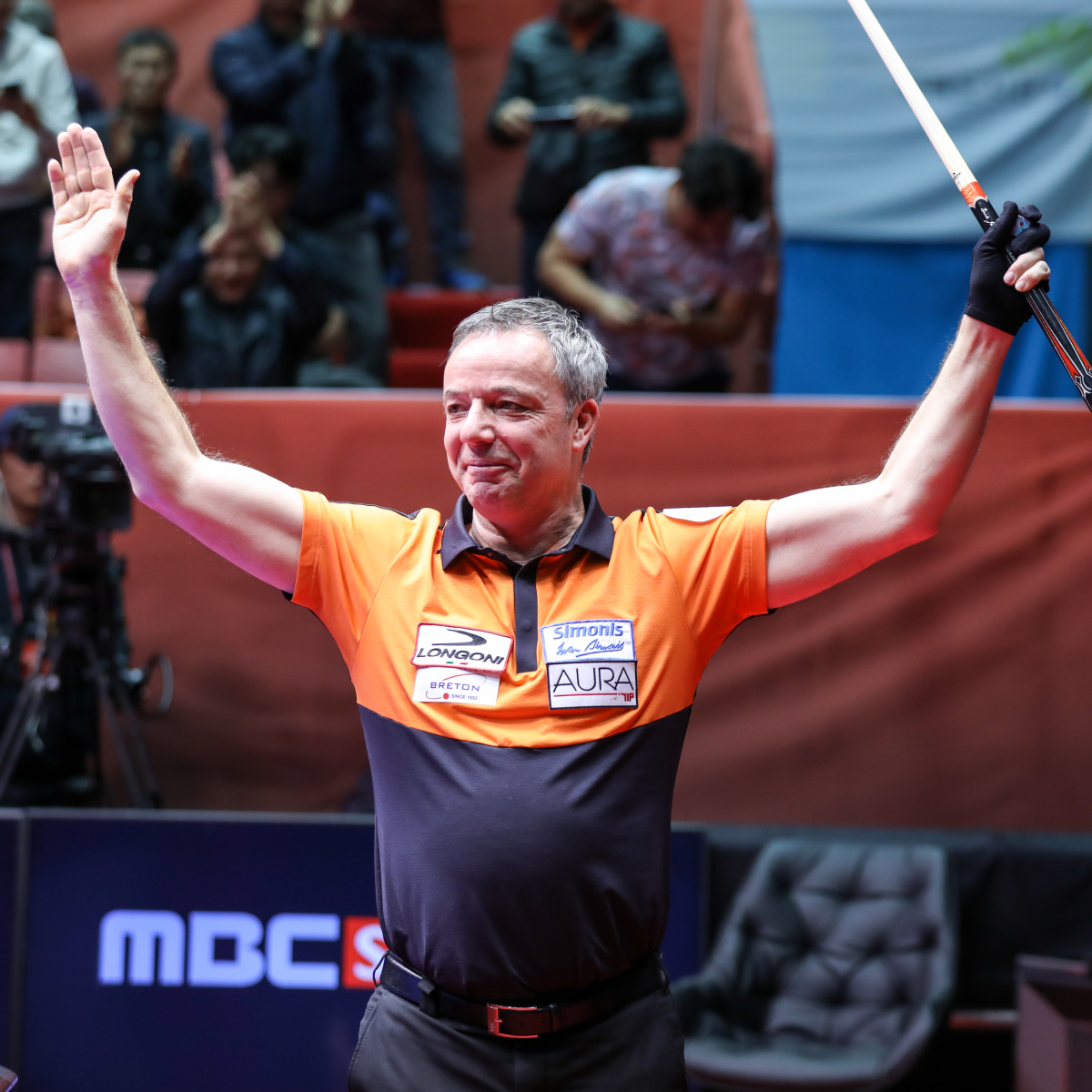 2018
Madgeburg, Germany
Dick Jaspers (Netherlands) rewrote the history books when he played Andreas Efler (Austria) in a league match. He made his 40 points in only four innings (5-11-2-22), for a mind-boggling average of 10.00. His poor opponent did not score, the match ended 40-0. We could speculate which record will be tougher to beat: Merckx's 50 in 6 or Jaspers' 40 in 4. Let's just say it was no coincidence that both these matches were played on Gabriels tables.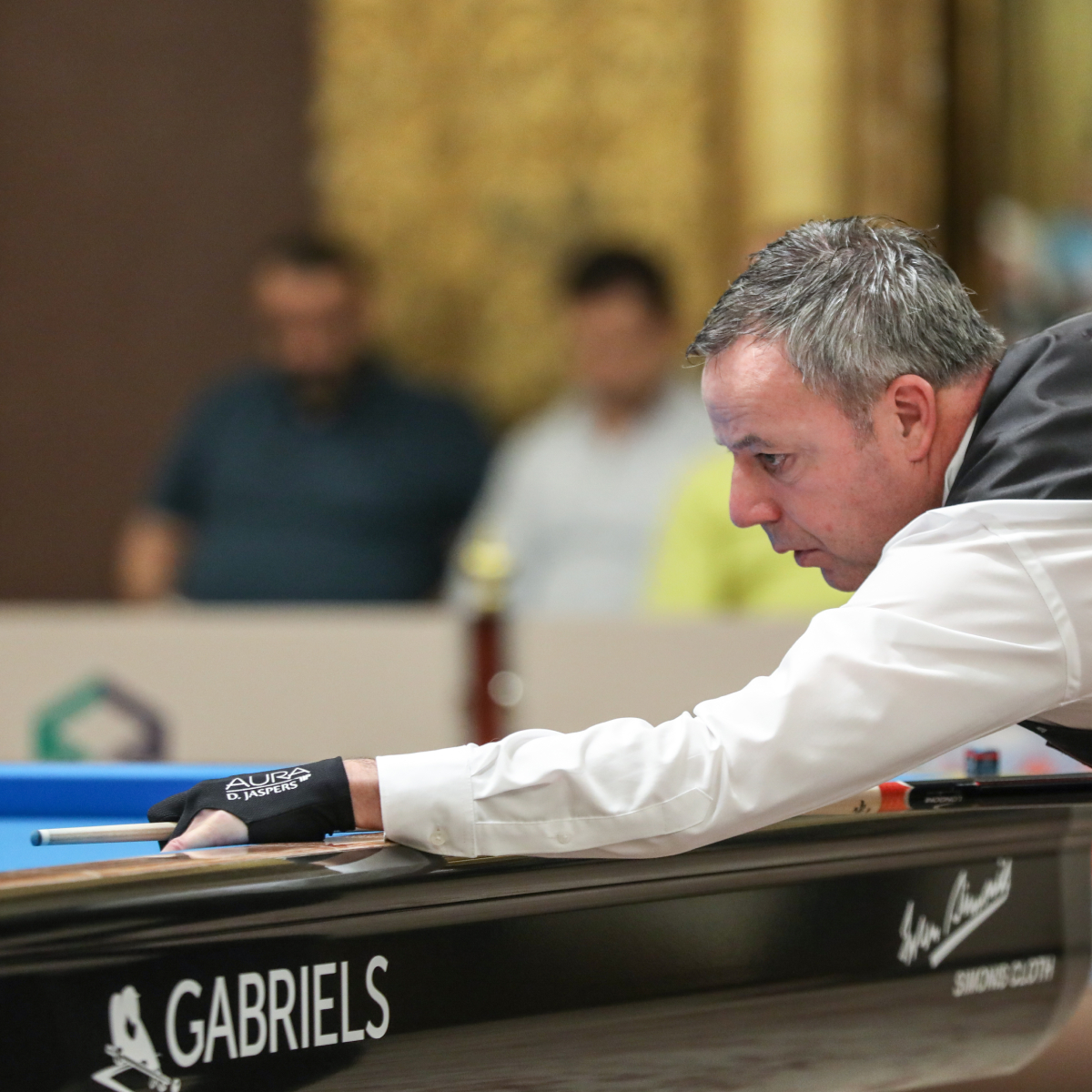 2018
Cairo, egypt
Dick Jaspers (Netherlands) not only won the world title in Cairo 2018, he also took away Haeng Jik Kim's record for best tournament average during a World Championship. Jaspers made 280 points in 119 innings for a formidable 2.352.